The Global Disinformation Index (GDI) is proud to present a new report assessing the disinformation risks in the Thai media market. This report is the result of research led by GDI, in collaboration with the Institute of Asian Studies (IAS) at Chulalongkorn University, conducted from December 2022 to May 2023. 
As the media world continues its seismic shift from traditional to digital media, news organisations are grappling with an increased risk of circulating disinformation - intentionally or not. Though disinformation has always been a problem for media outlets, the internet has enabled disinformation to spread further and faster than ever before, making it critical for news outlets, readers and advertisers alike to understand their risk. GDI's risk rating methodology provides key insights for all stakeholders to mitigate their disinformation risk and feel confident in what they are producing, reading or funding.
The following report presents our findings regarding disinformation risk in Bangladesh's media market, based on a study of 33 news domains. The sample was defined based on the sites' reach (using each site's Alexa rankings, Facebook followers, and Twitter followers), relevance and the ability to gather complete data for the site.
Overview
For much of the past several decades, Thailand has experienced a booming economy and rapid population growth, priming the country to become one of the largest media markets in southeast Asia. Thailand has made significant investments in the digitalisation of its economy in recent years, including a shift to online media that mirrors global trends. As of 2022, Thailand boasts an internet penetration rate of 77.8 percent - about 55.4 million Thai users - and this figure is projected to rise nearly 10 points by 2028.
Thailand has a large and diverse media ecosystem. The country produces several prominent and generally privately-run newspapers, but print media share has declined in recent years as Thailand follows global trends in the migration online. The Thai government exercises more direct control over television, the most popular medium among Thai citizens, and radio. Digital platforms, however, have recently started to undercut these mediums' favoured status and introduce a more diverse set of stakeholders and organisations into the country's broader media market. 
The COVID-19 pandemic sharply impacted Thailand's media industry, but 2022 saw the beginnings of a resurgence with a 10.48 percent year-on-year increase in advertising spending. Social media usage continues to skyrocket among Thai internet users, opening advertising reach opportunities in the country that frequently outpace its neighbours. A YouTube ad, for instance, has a potential ad reach of 42.8 million users - or about 61.1 percent of the total population - and Thailand boasts the fourth largest Instagram audience in the world.
Despite the rising demand in the digital media market, Thailand exerts a high degree of control over the news industry that can make growth difficult. Reporters Without Borders ranks Thailand 106th out of 180 countries in press freedom, thus classified as "not free." Mainstream media, if not directly operated by the state, frequently repeats the government's narratives under threat of harassment or prosecution. Alternative media outlets that oppose the government have often been the target of attacks or threatened with suspension. In 2019, the government enacted several major laws to further restrict the media, including criminal defamation charges and a sweeping Computer Crime Act that introduced a broad definition under which the government can censor media. The rise of independent digital media sources through platforms like social media, however, could limit the government's ability to suppress speech.
Findings
The findings for Thailand's news domains in this sample show that 2 out of 33 sites were classified as low-risk, 15 were classified as medium-risk, 14 as high-risk, and 2 as maximum-risk. No sites in the study were assessed as minimum-risk.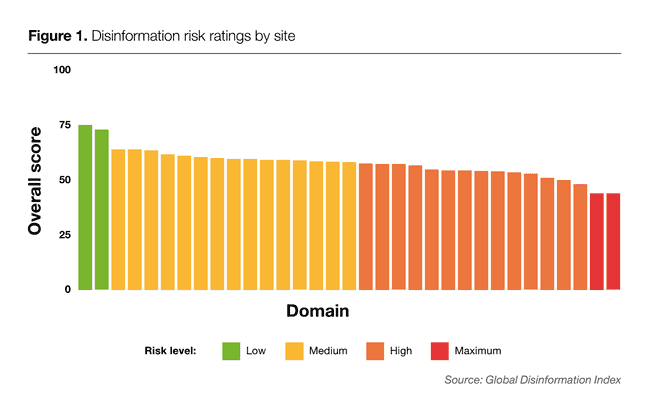 The overall average score for Thai domains was 57 out of 100, with 0 indicating no disinformation risk and 100 indicating maximum risk. This translates to a moderate level of risk for the overall media market. Most of the disinformation risk in these sites came from weak journalistic practices and a lack of transparency rather than from disinforming content.
The domains in this study scored very high on our Content pillar, with an average score of 79 out of 100. This high score indicates that the sites generally avoided sensationalism, produced accurate information, wrote clear and informative headlines and ledes that match the content of the article and practised authorship transparency. All of the sites in the study performed well on these indicators, with a very narrow score distribution of 72 to 85 across all domains. 
The Operations pillar, however, showed where these outlets frequently fall short of best practices in disinformation risk mitigation. The average score for this pillar was 35, though it is noteworthy that scores were distributed widely across the sampled sites with a range of 10 to 68. 
The sites in the study typically performed most poorly on ensuring accuracy of articles, publishing sources and byline policies, disclosing funding and producing clear editorial guidelines. These shortcomings significantly brought down the Operations pillar score and overall average score. 
Conclusion 
The overall disinformation risk in the Thai media market is moderate, though risk is not distributed evenly across all domains. The good news is that sites can take simple, quick steps to improve their scores and lower their disinformation risk by shoring up operational gaps and more clearly adhering to best journalistic practices.
Compared to other countries, Thai media is generally quite adept at producing low-risk content that avoids feeding into disinforming narratives. It is especially encouraging to see that all of the sites across the board performed well in this pillar, indicating that the media market as a whole is healthy and reducing its disinformation risk. If the lower-scoring domains in the sample continue to produce high quality content and focus on improving their operations, there is every reason to believe that Thailand could become one of the least risky media markets in Asia and beyond. 
Addressing these operational gaps is critical to lowering Thailand's overall disinformation risk. Low scores in the Operations pillar offset good performance in the Content pillar and can open reputable, well-intentioned media organisations to significant disinformation risk. Many of these issues, however, can be easily fixed by undertaking the following action items:
Set clear editorial standards and guidelines, especially in regards to editorial independence. 
Establish and publish policies for pre-publication fact-checking and post-publication error corrections.
Make a clear policy on bylines, and details the circumstances under which a byline may not be used.
Clearly source and correctly attribute news sources.
Publish more transparency on ownership and funding structures.
Read the full report for GDI's full analysis and learn more about what Thailand's newsrooms can do to minimise the risk of exposing their readers to disinformation.